Allan Kellum's Webpage: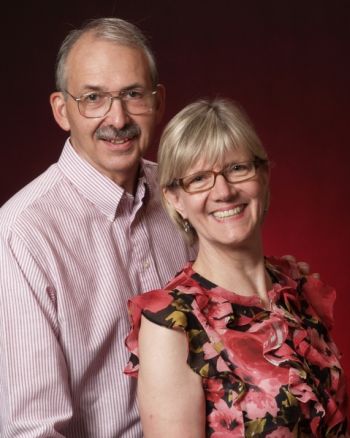 Allan and Henriette.
From first grade through senior year, I was in Plainfield schools the entire time. In the first grade, Minnie Bee Parson's class took a field trip to our family farm. I've got a collection of thank you letters/pictures that classmates sent to my family after the field trip. A sample is posted in my scrapbook section on this website.

When I was in the 7th grade, we left our family farm and moved to Stanley Road, just south of Plainfield. Rather than 7 miles from Plainfield, I was only a short distance from town.

From PHS, I went on to Earlham College, graduating in 1967. There I played basketball my Freshman year, majored in chemistry, and participated in the 6-month foreign study program in Germany and Austria. Subsequently, I performed draft board approved alternative service teaching math and chemistry at the Quaker schools in the Israeli-occupied town of Ramallah on the West Bank of the Jordan River, and received my masters degree in 1971 from Ohio University in chemistry after solving a molecular and crystal structure using x-ray diffraction techniques.

I then taught math and chemistry at Westtown School in Westtown, Pennsylvania from 1971-75. I also coached Freshman basketball and some track & field events -- high jump and discus.

From 1975-78, I was editor of a National Council of Churches' newsletter. From 1978-85, I was publisher of The Mideast Observer in Washington and an accredited journalist reporting on Mideast-related policy activities via direct reporting on Capitol Hill, the White House, State Department and the Pentagon.

In 1983, I met my wife -- Henriette -- at a church dance. Our two children are: Scott and Allison. As a family, we have particularly enjoyed our vacation trips together. Among the most interesting were our trips to South Africa to revisit Henriette's childhood home and to the Netherlands to visit her relatives there. We've also enjoyed frequent trips to Indiana to see my Sister (Evalyn, PHS '61) and my Mother (Carolyn) until her death two years ago at 99.

For 22 years, I worked at Development Associates, a government consulting firm in the DC-area. For more about work, see: LinkedIn Profile.

I still play basketball at least twice a week with a group in the 55 to 85 age range.


| | |
| --- | --- |
| | |
| Wedding Day. | Daughter Allison (23)and son Scott (26). |



Allan, his mom (Carolyn Kellum), and Henriette on
the occasion of Carolyn's 91st birthday.

Allan at the 40th reunion